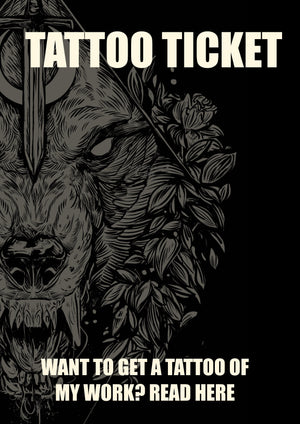 Tattoo permission ticket
Want to get a tattoo of my work? That's cool but here are my terms!
As an independent artist it would really help me out if you either buy something off my shop or make a donation to me via the Tattoo Ticket option! Some good tattooists will insist on permission from the original artists when you take a design you found online to them. You can use your order email confirmation as proof!
-NOTHING is posted to you or emailed to you. You are making a donation to me to compensate me for my design . This is an act of honour and good faith.
-This is a donation to use my work for a tattoo. NOT for any other commercial or personal use.
-Designs will not be amended/or sent to you. This is not for a custom design but for something you've seen in my gallery that you like! 
-THIS IS NOT FOR A COMMISSION/CUSTOM PIECE 
Again, this is a donation only!!!
Thank you for being rad!